Bath Brew House
This weekend I was searching for somewhere to hide from the pre-storm downpour that hit Bath and the South West on Sunday. I happen to live by a rule that forbids me to leave a pub, bar or restaurant until it has stopped raining outside, hence why I ended up sitting in the Bath Brew House on Sunday night for a fair few hours.I've heard a lot of buzz about this place since it opened at the beginning of the month, and I am so relieved that it didn't disappoint. The pub is unique in the fact that it brews it's own beers in The James Street Brewery, which is right inside the pub itself – you can see it physically happening as you walk through the doors. We went for the Emperor – an easy drinking, amber beer. I'm not a huge beer drinker myself, but even I revelled at the idea of drinking something completely unique and extremely local (it was brewed less than 4 meters away from me after all).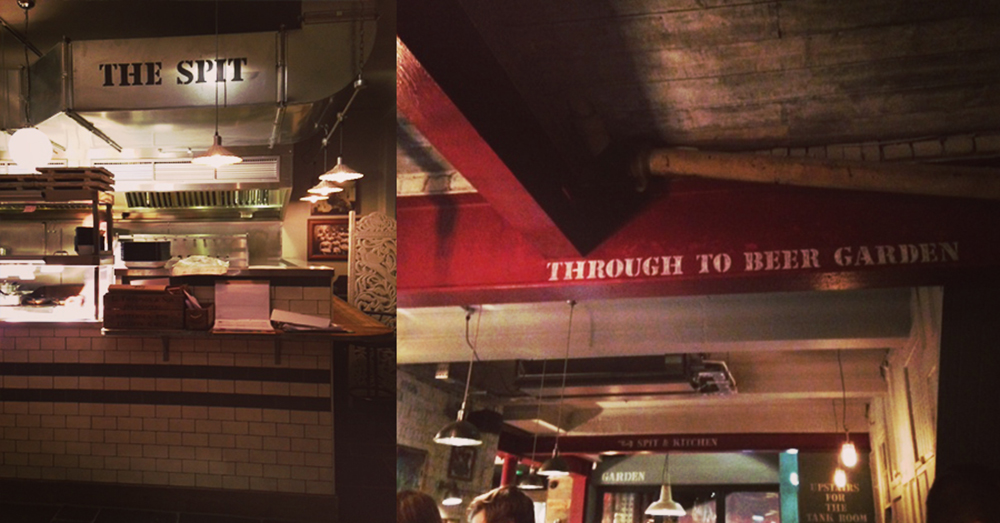 The brewery is obviously the key unique selling point of the pub, however this doesn't mean they have ignored all the little details that create that sought after, all encapsulating ambiance. As soon as you enter through the large glass door you are confronted with a relaxing sight of wooden booths and suitcase tables resting against a backdrop of rich burgundy and pale blue walls. All of the walls are speckled with black and white brewery photos dated from years back, vintage ale signs and an array of stenciled typography which looked as though each letter had been etched by hand. You get an instant feel of cosiness when you walk in.
Upstairs plays host to The Tank Room where the second tier of the brewery is situated, and is also used for private parties and showing sport. Dotted around the place were prints indicating 'this bar is closed' and informing you to 'wait here to be seated'. The brown paper stock these signs had been printed on really caught my eye, and the typography reflected that of the walls – it's the simple little things which always look the best I find.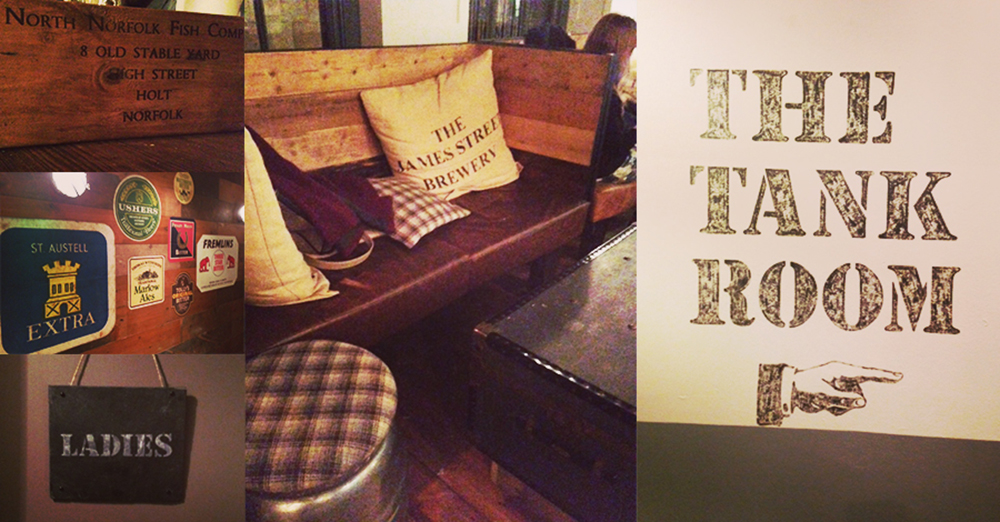 Unfortunately it was still raining outside by the time we had finished our drinks (sigh, what a shame…) so we decided it was time to order some food. I felt slightly disappointed by the menu's design – usually one of my favourite parts of any pub outing, along with checking out the Ladies Room (which by the way, are excellent). The menu was simple, typed onto white paper and encased in two thick slabs of clear plastic acrylic. Sure, you felt an air of quality when you picked it up, but I would have liked to have seen that brown paper make a reappearance. Perhaps this was just the Sunday menu? Perhaps I'll have to stop in again to have a look at the main menu…
All in all they've really captured the essence of a traditional brew house. They've not done anything that breaks the barriers of design – but every little detail has been thought about – from the hessian sack pillow cases to the vintage style lights hanging from the beamed ceilings. It's all be done to remind you of the roots of the brew house, and what an excellent brew house it is.