G'DAY BUNNINGS!
The February acquisition of Homebase came as a bit of a shock to us especially as Bunnings (and owners Wesfarmers) are pretty unheard of in the UK. So we thought we'd find out more…
Goodbye Homebase…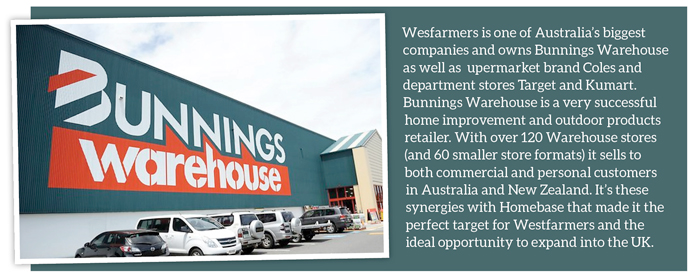 Wesfarmers are bringing the Bunnings brand to the UK backed by an investment of £500m. The acquisition is the first step in a programme which would see investment in the core Homebase assets and team to build an exciting new Bunnings business over three to five years. Wesfarmers' management team told analysts that the company had studied the UK market for more than a year before making its move and the strategy makes sense.
"They will use this European summer to test the market, they will use a number of stores and see how each of them trades, each with a slightly different model."
There is also speculation Wesfarmers will alter the product mix at Homebase, with a stronger focus on gardening supplies and accessories, and a reduced range of soft homewares such as bedding and curtains.
Wesfarmers have attracted criticism for taking an axe to Homebase's senior management team in early March, a decision managing director Richard Goyder defended as a critical element in its plan to transform the embattled British chain into a "world-class business".
"When you go and invest £340 million ($642 million) of shareholders' money you've got to have a plan," Mr Goyder said.
"Part of the plan was that Peter Davis would run the business – we were clear on that from day one. The other part was that we would take a handful of people from Bunnings, which I think is a world-class business, into a business that frankly isn't world-class at the moment."
We understand that the big red hammer will hit UK shoppers in as little as eight weeks as Wesfarmers rolls out the Bunnings brand across a handful of Homebase stores in time for the warm summer weather.
They have not commented on an actual launch date but suppliers suggest Wesfarmers is keen to test the brand in a number of outlets clustered around the Homebase headquarters in Milton Keynes.
What they want to do is maximise the potential sales and increased customers traffic over summer, one close source said "The focus of the guys in the UK is to get the thing operational," he said.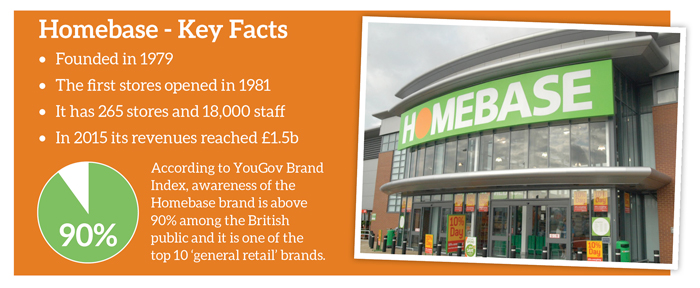 The new strategy…
The acquisition of 265 Homebase stores makes Bunnings the second largest home improvement and garden retailer in the UK and Ireland behind B&Q.
Wesfarmers has told investors it could improve on Homebase's store operations, cut prices, widen ranges, improve service, appeal more to tradesmen and do more online.
John Gillam, managing director of the Melbourne-based Bunnings, said: "We have noted some commentary in the UK claiming that DIY is in decline; we could not disagree with this more. We see a huge market opportunity for good quality home improvement and garden retailing. Bunnings is well-placed to unlock value from the Homebase business and has a proven track record in delivering growth both organically and through acquisitions"
Given their track record Wesfarmers certainly seem to know what they're doing. They took the ailing Coles supermarket business and transformed it into one of the most successful retail businesses in Australia adding around £10bn in sales between 2009 – 2015.
What will Bunning's strategy be? In Australia, Bunning's strength lies in its 3 brand pillars: biggest range, lowest prices and good service. Consistent branding of these key attributes through catalogues, advertising plus delivering on the service promise have driven the Warehouse success, underpinning the Bunnings business. Given the market similarities between the regions, there's no reason why they won't roll this out in the UK too…
By Joanne Holder, Managing Director